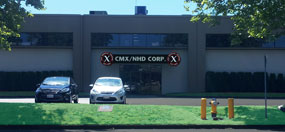 Established in 1983, CMX Medical Imaging procures, warehouses, distributes and services most types of radiological related products, components and capital equipment related to their customers. CMX serves over 1,500 hospitals, clinics, imaging centers, physicians, chiropractic and veterinary offices throughout Washington, Oregon and Southeast Alaska. Many of these customers CMX Medical Imaging has served for over twenty years.
As an industry leader in medical imaging distribution and service, CMX Medical Imaging has seen numerous changes to the healthcare community. For CMX Medical Imaging to continue to be a viable distributor and provide cost-effective services and solutions to their customers, they had to develop and strengthen relations with vendors and manufacturers to make a transition to the digital imaging arena. Their business now extends well beyond the capacity to service processors to distributing film, barium, chemistry and other essential needs to the radiographic area of the healthcare industry. CMX Medical Imaging has become an important player in the digital arena. They are a major distributor of Direct Radiography (DR), Computed Radiography (CR), printers, scanners, laser cameras, CD burners and digitizers, to name a few. CMX encourages you to look at their product portfolio, which features hundreds of radiological products (digital and analog), capital equipment, supplies and accessories to meet the need of various radiology facilities.
CMX service team is comprised of qualified technicians that receive on-going technical training from their manufacturers and vendors, thus allowing them to provide cost-effective technical service on digital and analog equipment.
CMX Medical Imaging is a shareholder of NHD (National Healthcare Distributors). Through NHD, CMX Medical Imaging has contracts with the major GPOs in the United States; thus providing unparalleled pricing to our customers. In summary, CMX Medical Imaging's plan is simple: to be the best customer service distribution and service company in the radiology industry. CMX is committed to being an important and valued reseller of radiological products and service for both the digital and analog environment.
CMX Medical Imaging encourages you to search their website, and if you are interested in any of their products or services, please call or send an e-mail. CMX Medical Imaging is happy to serve your needs!
CMX Medical Imaging
6601 South Glacier Street
Tukwila, Washington 98188
Telephone: (425) 656-1269
Fax: (425) 656-2855