Description
The award-winning SIERRA Advantage film digitizer allows for an affordable solution for teleradiology and low-volume digitizing. It overcomes some of the most common barriers to digitizer use — quality, cost, and size. It is the first film digitizer small enough to be easily wall-mounted, solving siting problems commonly found at hospitals and radiology offices. Featuring easy USB connectivity, an LED lighting system, and availability with a single or 10-sheet film feeder, the SIERRA Advantage allows you to increase report turn around time and reduce courier costs – all while utilizing the current PACS infrastructure. You can integrate outlying clinics for a fraction of the cost of low-end CR products.
The RoHS compliant SIERRA Advantage features VIDAR's next-generation prorprietary High Definition CCD (HD-CCD®) technology, and its unique ADC (Automatic Digitizer Calibration) feature results in virtually no variation in image quality and ensures excellent grayscale reproduction in every image.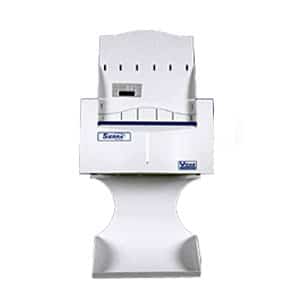 Unlike other digitizers that require biannual calibration or cleaning, VIDAR digitizers need no maintenance or calibration, saving nearly $2,000 annually. The straight-line film path reduces the need for costly service calls ($500 or more each) due to film jams. Parts replacement, on-site service, shipping, and service costs for factory repairs can reach $4,500 annually for laser digitizers. An analysis of a three-year total cost of ownership demonstrates that the cost of owning a laser digitizer is significantly more than that of a SIERRA Advantage.
Customer Benefits:
Clinically proven image quality and consistency
Ideal for cost-effective use in teleradiology, small imaging centers, and emergency rooms
Improves productivity and workflow
World-class reliability, service and support