Description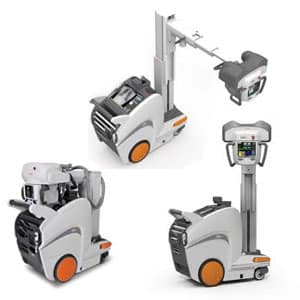 Digital radiology is on the move like never before with the CARESTREAM DRX-Revolution Mobile X-ray System. The industry's only mobile x-ray system with a fully automatic collapsible column has arrived. The days of blindly navigating tall, bulky units through hallways and around bedside monitors are over. Powered by a wireless DRX detector, this x-ray room on wheels drives like a dream and gives you fast, high-quality images.
A revolutionary imaging system that drives like a dream.
The tight and cluttered spaces of the ICU, ER and OR are no match for the mobility of the CARESTREAM DRX-Revolution.
So easy to maneuver, you can make a 360-degree turn while steering it with just one hand.
An automatic collapsible column shrinks the system to just over four feet tall, giving you complete visibility when moving the system to any location.
The powerful dual motor drive makes moving the system effortless—in forward or reverse.
A long tubehead reach gives you easy access to the patient in crowded rooms.
Two touch-screen displays enable prior image review, technique changes and image acceptance or rejection from either location.
Fast, high-quality images in tight spaces for the sickest patients.
Unique Tube & Grid Alignment System optimizes image quality and encourages grid use.
Consistent, precise images mean fewer retakes and support for faster, more accurate diagnosis.
A powerful 32kW generator, dual focal spot tube and EVP Plus image processing combine to deliver superb image quality.
DRX-Revolution offers prior image review including techniques and exposure history by using query/retrieve from PACS.
Optional Tube & Line Visualization software instantly verifies placement of tubes and peripherally inserted central catheter lines in seriously ill or injured patients.
The DRX detector is available in both gadolinium oxysulfide (GoS) scintillator or cesium iodide (CsI) formats for dose-sensitive exams.
Accelerate your workflow to new levels.
This fast, reliable, and easy mobile DR system was designed for the way you work.
Touch screen monitors at both the tube head and main display provide two work zones just like a stationary DR room.
Position quickly with the lightweight, wireless DRX detector that eliminates trip hazards and reduces the spread of infection.
On-board bins keep gloves, sanitizer, paperwork, markers and lockable detector storage at your fingertips.
Quickly power up and start your rounds with a single badge swipe.
The same easy-to-use graphical user interface is on all Carestream CR and DR products, reducing training time and maximizing productivity.
Boost efficiency and cut costs with a detector that works across all your digital x-ray equipment.
The detector that goes and grows with you
At the heart of the DRX Family is the world's first wireless, cassette-sized detector that works across all your imaging equipment. Carestream's 2nd generation DRX wireless detector is faster, lighter and even more versatile to support greater workflow and productivity.
Image quality
Combines the high quality of Carestream DR systems with immediate image access to help speed decisions on patient care
Optional three-second exposure mode enhances imaging with lower power x-ray generators and accommodates thicker body parts
Enhanced workflow
Simply slides into table or wall-stand Bucky and can be used for tabletop projections like a conventional cassette
Easily moves to any room or mobile DRX system
Multiple exposures for long-length imaging (Not available in the USA) can eliminate the need for CR and expedite orthopedic exams
Convenience
Weighs 7.5 lbs (3.4 kg) and is easily transportable to boost productivity
Carbon fiber twill front panel and powder coat finish on back panel improve handling
Supports 375 lbs (170 kg) of distributed weight and up to 250 lbs (113 kg) on a four centimeter diameter
Sleep mode extends battery life to up to 190 exposures or 14 days on standby mode, which means fewer battery changes and lower costs
Features are available on DRX-1 detectors or the DRX-1C cesium iodide detectors. The CARESTREAM DRX-1C detector's high DQE and MTF make it an ideal fit for dose sensitive applications like pediatrics. More than 4,700 DRX detectors are in clinical use worldwide.