Description
The Konica Minolta AeroDR® HD Flat Panel Detector provides extremely high-definition radiographic imaging with the same recommended dose, housed in a lightweight, durable and highly water-resistant enclosure. AeroDR HD is equally suitable for use on the tray table, in the ER or as part of a tabletop or cross-table exam, equipping you with more visual information to make faster, better patient decisions.
Highest-resolution imaging supports advanced exams and detailed analysis of small structures.
Extreme resolution (100µ) and dynamic range (200µ) without increasing patient dose
Supports up to four seconds of autoexposure detection with no X-ray generator cable connection
Charges to full power in 30 minutes and lasts up to 8.2 hours (300 images)
Power cell packaged in lightweight but durable and waterproof enclosure2
2 The waterproof performance of this product does not guarantee that product damage or failure will not occur. The product may fail to maintain its waterproof performance (equivalent to IPX6) if it has been dropped.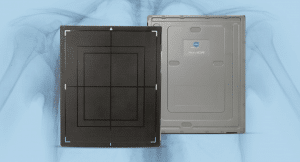 ADVANCED TECHNOLOGY THAT GOES ALMOST ANYWHERE.
Compact and portable, the AeroDR® HD detector measures just 14″ x 17″ and weighs only 5.7 lbs. The panel size is suitable for upgrades and new installations in standard X-ray systems, with or without a connection to the generator.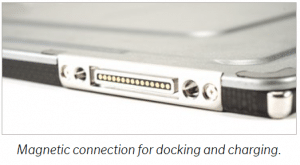 IMPROVED RESILIENCE
A durable protective enclosure absorbs impact from bumps and accidental drops, while an IPX6 waterproof rating safeguards your investment from inevitable spills encountered during portable emergency use. The built-in power cell provides up to 8 hours of use after a 30-minute charge1, helping to keep you productive on the go.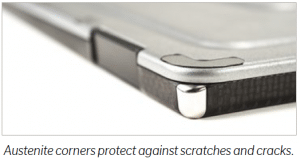 COMPATIBILITY WITH OTHER TIME-SAVING DIGITAL RADIOLOGY SOLUTIONS.
Fully compatible with the complete family of legacy AeroDR detectors, the AeroDR HD Detector can be added to or shared with any existing Konica Minolta AeroDR system without modifications2. It can also be used with the Konica Minolta AeroRemote™ remote monitoring, a cloud-based service that offers secure, real-time system and detector health and utilization monitoring from any mobile device.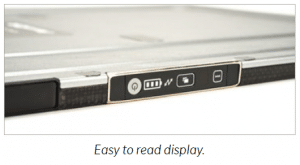 Specifications:
100-micron pixel size
72% detector quantum efficiency (DQE @ 0Lp/mm))
3488 x 4256 pixels (14″ x 17″ panel)
5.7 lbs. (2.6 kg)
Improved resilience to:

Loads (25% higher)
Drops (20% higher)
Bending (resists deformation)
Liquids (IPX6 waterproof compliant)

Up to 8 hours of use after a 30-minute charge