Description
Unparalleled Image Quality And Fast Technology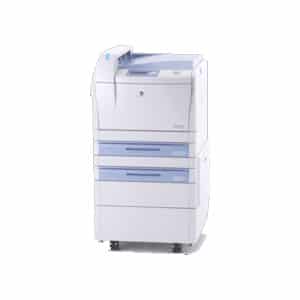 The DRYPRO 873 is the newest dry laser imager from Konica Minolta. The DRYPRO 873 incorporates faster, quieter throughput for use in mid to high volume, multi-modality use, including full filed digital mammography. The DRYPRO 873 laser imager is expected to be the top performer in imaging capacity and diagnostic image quality.
Features: A compact Dry Laser Imager with 90 films per hour, four film sizes (choice of: 14×17, 11×14, 10×12, 8×10), 14-bit grayscale output, 50 seconds first print time, up to three film trays, maximum 16 DICOM connections. 125 sheet film capacity.
Fully compatible with four sizes and the world's smallest design
The unit comes in less imposing compact body with 1150 mm in height and commands only 0.35m2 for an installation area while providing five sizes of printing film raging from 14″×17″ to 8″×10″. Since it supports the main film sizes, it is possible to run a life-size printing operation. Also, it can support additional supply units of up to 3 trays. Film size can be selected depending on the purpose.
Full Options For Various Purposes
The standard film supply uses two trays but up tp three trays can be optionally mounted. An additional optional film supply tray for the DRYPRO 873 (four sizes from 14×17″ to 8×10″) is available. Any combination is possible depending on your requirements. The optional 6-channel sorter is also available, which is useful for sorting by modality after printing.
User-friendly quiet design
The simple design means the unit emits less noise for a user-friendly working environment. The actual noise is tuned to the lower tones with softer high-frequency tones, making users feel the unit is quieter than the actual noise level. It will provide a quite working environment.
Fast Print Output
By adopting a numer of new technologies, the first printing time has been reduced significantly to about 50 seconds. The DRYPRO 873 can enhance workflow up to 180 sheets (mixed sizes) per hour.
For Digital Mammography
The combination of the optical unit (43.75um) that enables detailed recording and the SD-QM film can support a maximum density of 4.0 Dmax in two film sizes 8″x 10″ and 10″x 12″. For daily maintenance of mammography, this image can support mammography QC patterns for film density control and quality digital mammography imaging*.
*Cleaning is recommended every 2000 sheets.