Description
The dynamic Web-based Opal-wRIS was developed into a completely Meaningful Use Certified EHR that meets all required measures natively in the software. The Opal-EHR software suite maintains the business driven features that streamline practice workflow and enhance profitability while adding upgrades necessary for Meaningful Use Certification purposes.
With the use of intuitive logic, Opal-EHR easily delivers important patient, insurance, and facility information designed to manage and maintain the most productive and efficient business.
The scalable Opal-EHR software is ideal for both single and multiple facility enterprises, and allows for the practice to grow and develop with new facilities, modalities, and physicians. A complete Women's Health Module is also available with a comprehensive package of functions created to facilitate practice compliance with the American College of Radiology (ACR) Bi-RAD and MQSA standards.
EHR Features
Patient visit report engine with templates
Electronic Prescription
Laboratory Orders and Results
Radiology Orders and Room Scheduling
Dictation & Transcription and Voice
Recognition Functionality
Complete Meaningful Use Certification for
ambulatory facilities
Intelligent Patient Scheduling
Opal-EHR makes scheduling easy: input appointments by patient, calendar, or resource (modality, physician, procedure) and view first available time slot.
With Dynamic Scheduling, the software aides in easy scheduling of multi-modality exams for one patient visit.
Intuitive Patient Registration notifies and suggests a merge when registering duplicate patients.
Easily reschedule patients without re-entering exam and CPT information.
With a dedicated schedule for walk-ins, patients without appointments can be added to the facilities records with no complications.
Manage your schedule with notifications based on CPT code and insurance provider to easily identify and manage patient flow. For example, the system can prevent contrast studies if there is no physician scheduled onsite.
Insurance eligibility and authorization status information is available in a customizable report.
Physician Portal
Give referring physicians secure Web access to schedule patients at your facility.
Lite Schedule option makes it easy to schedule patients and reduces the possibility of user errors.
Referring physicians can also have the ability to view images, reports, and scanned documents depending on facility permissions.
Patient Portal
Patients can now have Web access to their own personal records.
View images, request exams, view pending appointments, history, enter insurance information, register family members, see past due amounts and make payments.
Download a CD of images and reports.
Customized Viewing
Customize your Web-based RIS home screen, access levels, chat, and blog. Configure access level based on referring physician, personnel rank, and preference.
Facility dashboard—RIS home screen can include any of the following: outstanding studies and reports to be signed, noteworthy results, product inventory tracking, calendars, and open tasks among others.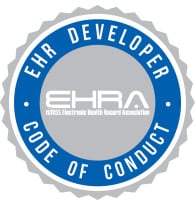 Viztek is committed to the standards put forth by the EHR Developer Code of Conduct

Certification Information:
Certified product version: Opal-EHR 3.2
Certificate number: IG-2855-12-0047 (current)
Certification date: 11/08/2012
Practice setting: Ambulatory
Clinical quality measures: (NQF 0028, NQF 0013, NQF 0421, NQF 0024, NQF 0041, NQF 0056, NQF 0031, NQF 0038, NQF 0043)
Additional software required: Dr. First is used for the following Criteria: Dr. First (Rcopia) for 170.302.a, 302.b, 302.d, 302.e, 302.j, 304.a, 304.b, 304.f, 304.h, and 304.i
Disclaimer
These complete EHR's are 2011 compliant and have been certified by an ONC-ACB in accordance with the applicable certification criteria adopted by the secretary of Health and Human Services. This certification does not represent an endorsement by the U.S. Department of Health and Human Services or guarantee the receipt of incentive payments.