Description
GE AMX 4 Portable Remanufactured AMX 4
Huestis Medical remanufactures all GE AMX portables under a thorough electronic, mechanical and cosmetic program. Numerous upgrades include a new maintenance-free battery pack, critical structural reinforcements and replacement of major cabling and control components. Huestis Medical then calibrates and tests each system to exacting standards backed by an 12-month warranty on workmanship and parts.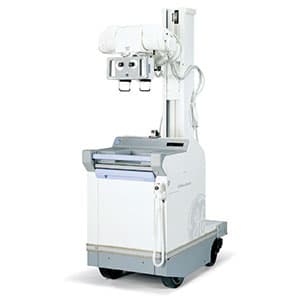 Features
New 28 Amp/Hour Lead Calcium Batteries.
New control panel decals.
New H.S. cord and housing.
New small diameter HV cables.
New L.V. cables.
New counterweight cables.
New wrap around bumpers.
Upgraded front casters (if needed).
New drive belts.
New hospital grade cord cap.
New collimator dials.
Mechanical assemblies inspected and rebuilt as necessary.
New bearings where needed.
Complete calibration to meet or exceed OEM specifications. [AMX-4 UPGRADES:]
Reinforced Base
New style spring loaded casters
New style cassette draw
Pad added to the bottom of the cassette drawer
Hall effects tube latch assembly
New style relay assembly for tube latch
Upgraded drive wheels
Upgraded drive motors
New style micro-switches in the drive handle
New style micro-switches in the in the collimator handles
New style knobs and pointers on collimator
Proprietary upgrade to rotor board
Proprietary upgrade to the CPU
ESD (Electro Static Discharge) cable added to the base unit
ESD wire added to the top shroud
ESD added to the drive handle
New style PCB interconnect cables with choke installed
Protective wrap added to the top shroud
AMX-4+ style vertical column positioning of xray tube through 270-degree column rotation
Proprietary battery charge labeling
Green charge indicator light added
Remote battery charge voltage test terminal block added
A copy of the calibration data (battery back-up RAM chips) is archieved for a period of 2 years
Technical Specifications
100 mA constant.
kVp 50-125.
mAs 0.4-320.
24 kVp stations.
30 mAs stations.
X-Ray tube MX-75 275k HU.
Focal spot .75mm.
Dual motor drive (forward & reverse).
Variable speed drive.
High frequency generator.
LED display.
Electric solenoid locks.
AMX-4 – High Frequency Performance
The GE AMX-4 features a high frequency, microprocessor controlled generator and are upgraded to a vertical column.These thoroughly remanufactured units are backed by a 12 month warranty.